Nine Days ago
Last weekend I traveled to lizzie and osti. Because my car is sick I went by bus and train and that was amazingly not annoying: I finished what I call my red bat. That's this lovely shawl in, you'd have guessed it right, red :D. My first attempt in lace knitting went well, but I'm procrastinating on blocking it because I fear it turned out too small. And yes, there's no logic whatsoever in not blocking it and finding out for real.
After some family time with loads of important stuff happening on Friday night, all of which is not your concern ;) we had a NKL meetup on Saturday. NKL you ask? That's the Ninja Knitting League Lizzie and I founded with two friends. Lots of fun so far :) This time we started by visiting a local yarn shop. Not sure it classifies as a brilliant or a really bad idea... All the attending NKL members fell in love with beautiful yarn and bought way more then they wanted including me.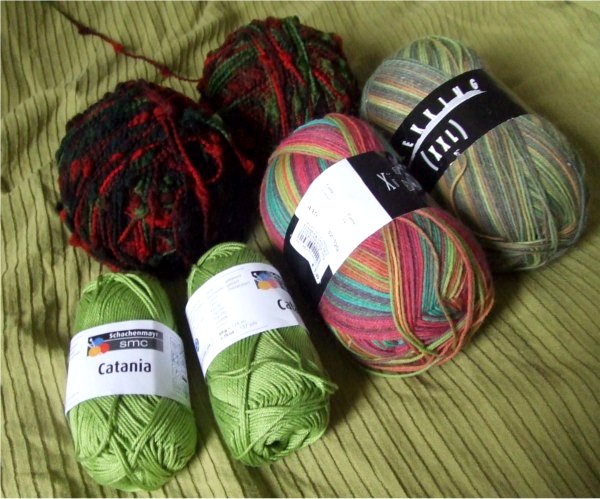 This is what I bought. I really only wanted some green cotton yarn to make a hat for the summer as I get sunburn on my head and sadly all hats you can buy are too small for my head. Who invented one size fits all? IT DOESN'T!!!! Well, they not only don't fit, I also don't have a hat face. It looks plain wrong. But... sunburn! Not fun... I decided to make a green hat, because I love the colour and what the heck, if I have to look stupid it better be in my favourite colour :D. You see the yarn in the left lower corner.
Then I fell in love with the two sock yarns in the right lower corner. One in greens and one in candy colour. This are the two shades that always scream to me... Lizzie already laughs about it a lot. May be the reason why I don't have any male sock yarn :D
And then the two skeins of knobbly yarn! It's merino and 1% nylon and it's soo soft and beautiful and I love it! (It's blick fang from zitron in the shade Wohlgefühl) I immediately casted on a simple shawl on Sunday morning. As much as I love the yarn as much of a pain in the *clears her throat* behind it is to knit it. Knobs... not fun to knit... but it's so soft, I think the result will be worth the annoyance. I had to unravel it once, because I changed the pattern and made it less wide to gain more length. It now looks like this: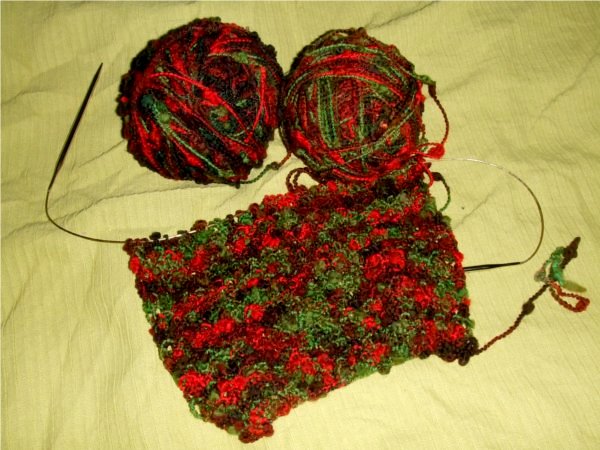 The amount of yarn already gone now made me suspicious and I feared a short shawl and this yarn screams for a loong scarf! I did some research on ravelry, calculated a bit and found out that with my current width it only will be as long as 177cm. Too short. If I reduce the width from now 24cm to 18 cm it will be 237cm long. Better. Not good though. But I can't make it any smaller, 18cm is the minimum width in my book :) I'll see how it turns out, maybe I'll need to acquire more yarn. Sadly that means I have to unravel it all AGAIN. And if the knitting is annoying, unraveling a knotty yarn is really really bad...
I really wanted another sock yarn too, btw, but my fellow ninjas were faster than me and took the great yarn, in greens again, right before my eyes... I tried to snitch a skein but sadly lizzie caught me. She also checked my bags before I travelled home. The saying "All is fair in love and war." should be extended <.<;
Now that I described the wool wonders, I can get to the rest of the day: We ate de-li-cious burritos with guacamole lizzie made herself. So very yummy! We drank caipis and we chatted and showed each other our finished and unfinished projects and newly acquired yarn. I have to mention two beautiful lace shawls, cool socks, leg warmers and a dragon hat! And we sat in the spring sun an knitted. It was amazing!
Posted by ette | Categories:
Knitting